Goddard College asks, what can be done in response to the recent violence against our black citizens?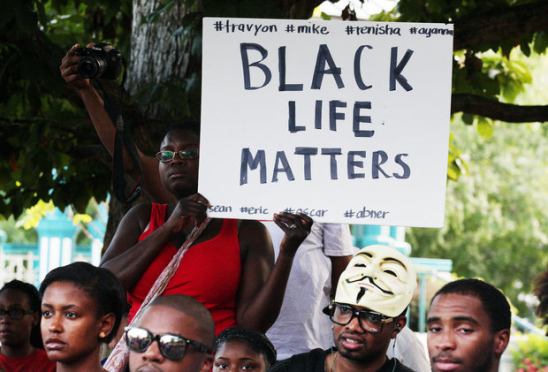 A number of Goddard students, alumni and faculty shared news of their involvement with #Blacklivesmatter and related anti-racist organizing efforts around the country:

Ya-Ping Douglass (IBA '16) and Nikhil Goyal (IBA '16) have been involved in various actions in Massachusetts and New York City. Devin Mason (BAS '15) participated in a vigil in Craftsbury, Vermont. Devin is also seeking Goddard community members to participate in an action during the upcoming Undergraduate Program residency.
In New York City, Casey Johanna (IBA '17) helped organize a Call to Healing event, a multi-Buddhist lineage practice engagement night for people of color and allies to learn and heal from the effects of the non-indictments of the Eric Garner and Michael Brown cases. The evening of the December Millions March, Casey spoke at the Interdependence Project on a panel called, "After Anger: Finding the Fuel for Sustained Work Towards Justice."
Marita Kennedy-Castro (IBA '14) joined fellow health practitioners in Portland, Maine, to raise money for the Black Lives Matter Ferguson Bail and Support Fund. Marita and others "donated proceeds from our sessions or classes (mine was West African Inspired Dance class) and collectively raised, $1,521." Marita encourages other health care practitioners to consider similar fundraisers.
Synnika Lofton (IBA'04, MFAW '06) launched a new initiative in the wake of #blacklivesmatter called International Writers For Resistance, which focuses on producing creative writing and articles that address socio-political issues.
Several Goddard students have organized an ongoing Goddard anti-racist group for white allies. Contact Taylor Quilty (IBA '16) if you want to join in. And, Christian Phiffer(IBA '18) has been developing an anti-racist resource group for white people in North Adams, Massachusetts.
Undergraduate faculty members including Pam Booker, Maike Garland, and Karen Werner attended #Blacklivesmatter vigils and marches in November and December.
Other faculty members, including Karen Campbell, Neema Caughran, Muriel Shockley, Karen Stupski, Diana Waters, and Bobby Buchanan, have been working with students in the Justice and Inclusion Roundtables on desƒigning the upcoming Undergraduate Program residencies with more comprehensive resources for undoing racism. Special thanks to students Ya-Ping Douglass (IBA '16), Ricky Bratz (IBA '15), Amelia Sabine Rebelle (IBA'16), Jay Masika (IBA '16) and Kristin Schwab (IBA '16), for their ongoing participation in the Justice and Inclusion Roundtables.
In related news, alumni Paris Alexandra (IBA '14) and Kevin Price (IBA '13) spoke in Philadelphia at a December 9th event, "You Can't Silence Mumia – You Can't Silence The Resistance." December 9th marked 33 years since Mumia Abu-Jamal (BA '96) was arrested. The December event focused on the recent Pennsylvania law restricting speech of inmates that was passed in direct response to Mumia's Goddard College commencement address in Fall 2014.
Thanks to everyone, including those not mentioned here, for your ongoing responses and actions to make a more inclusive, safe world in which #Blacklivesmatter.